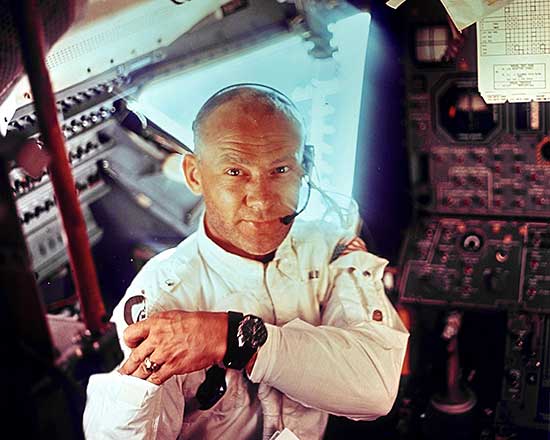 Buzz Aldrin was the second man to walk on the moon and he has plans for humans to inhabit the Red Planet. Many believe that humans need to look beyond Earth to survive, and Mars is looked upon as the habitat of choice. But what does Aldrin think about the space tourism plans of rich people such as Elon Musk and Jeff Bezos?
Aldrin on Space Tourism
Aldrin believes that human commercial activities in low-earth orbit, that area where navigation and military satellites are located as is the International Space Station, will be very important. The cost of activities in LEO will be lower than the journey to Mars, but the investment will be significant to Mars missions.
Multihyphenate Elon Musk set up SpaceX, an aerospace manufacturer and space transport services company, in 2002 to reduce space transportation costs and enable the colonization of Mars. Both the Falcon and Dragon line deliver payloads into earth orbit.
Musk announced in February of this year that his company has been contacted by two space tourists who made a significant deposit to go to the moon. SpaceX announced that the tourists will have to begin training and undergo fitness tests to make them flight ready by 2018.
Amazon's Jeff Bezos also created a company called Blue Origin that will deal with space transport, with plans for a cargo-delivery service to the Moon.
Aldrin clearly appreciates the efforts of both men but he's much more looking forward to the possibility of humans living on Mars.
Aldrin on Mars
Aldrin is clearly passionate about establishing a human settlement in Mars so much so that he has actually created a plan for it called Cycling Pathways.
The Earth and Mars align every 26 months and travel to Mars should be done during that period. Humans will be transported to the Red Planet on one or two Earth-Mars "Cyclers" with a single launch. Aldrin believes that this model will cost less than the plans outlined by NASA.
Aldrin isn't much in favor of a one-off mission, but one that continuously cycles between Earth and the Moon, then Earth and Mars. Doing this allows the constant movement of not just people but also equipment and supplies.
Apart from outlining a plan to get to Mars, Aldrin is also raising money through his non-profit ShareSpace Foundation for the education and development of next-generation space innovators who will help secure the habitation of Mars.
Aldrin hopes to get humans on the Red Planet by 2039. The year is significant as it will mark the 50th anniversary of the moon landing, and Aldrin believes that US President Donald Trump should announce a commitment to ensure that it actually happens. Trump signed a NASA funding bill that supports the exploration of Mars in April that set a target date for a manned mission by 2033.
Historical accounts will always recognize Aldrin's involvement in the lunar landings, but he wants to be remembered as "the man who led the world to Mars."